PRESS RELEASE
Berlin, Germany, May 16, 2018
Creanord Enables SLA Guarantees for Virtualized Critical Networks as a Field-proven ADVA Ensemble Partner
Creanord, the leader in guaranteeing SLA, IP and Ethernet Performance for Critical Networks and ADVA, a leading provider of open networking solutions for the delivery of cloud and mobile services, announced today the integration of Creanord's NFV Service Assurance and SLA solution with the ADVA Ensemble open virtualization suite. Partners have also completed a series of field trials together with Ficolo, Finland's leading cloud delivery and colocation data center and Neos IT Services, the German-based IT service provider specializing in securing high-transactional platforms, with an objective to enable Assured and Secure delivery of Virtualized and Managed Cloud Connectivity Services for Critical Communications sector.
The importance of Service Level Agreement (SLA) assurance continues to grow as our society is more and more dependent on uninterrupted digital life. This is especially true with the Critical Communications sector providing services that protect citizens every second, 365 days a year. A good example of this is national emergency call centers, known by Europeans as a 112 service. These call centers are dispatching firefighters, police and medical help when needed. It's clear that emergency calls need to be completed with sustained quality in order to get the help to where it's needed as quickly as possible. But a lot goes on behind the scenes, and can also go wrong if service level objectives are breached.
For Critical Networking professionals it's an imperative that the network is not jeopardizing critical communications. We should work as hard as possible to implement highly accurate network performance monitoring that continuously tracks data delivery, latency and other key quality indicators that are visualizing network health for operations teams. Nobody wants to drive blind.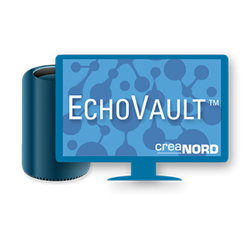 But we can do even more. When required levels of continuity and quality metrics are agreed in SLAs, we're in fact stepping forward to take responsibility for our part. When you measure your performance, you can also track improvements in your network quality using SLA tools. Good SLAs also prevent counterproductive finger pointing. In a way it's all digital - SLAs are either met or breached. And every month there's an opportunity to improve the quality of Critical Communications.
We understand the importance of critical networking, and it's our pleasure to affirm that offering managed, assured and secure networking services to the critical communications sector is easier and more flexible than ever. "Together we're providing highly guaranteed and secure connectivity between users and cloud resources," says Jorma Hämäläinen, Sales Executive and Co-Founder of Creanord. "This combined solution enables Critical Communication organizations to embrace the benefits of Virtualized Networking without having to second guess security and quality," adds Dieter Will, ADVA's VP of business development, EMEA. The solution brings together the ADVA Ensemble open virtualization suite that includes the industry's only virtualized encryption technology and Creanord's NFV Service Assurance and SLA platform. Thanks to our field-proven and highly integrated solution Creanord and ADVA are now uniquely positioned to enable secured and assured connectivity for Critical Networks. A full paper detailing both technical and practical benefits of the solution will be available shortly. Please contact Antti Pappila (antti@creanord.com), CTO and Co-Founder of Creanord for more details.
About Creanord
Creanord empowers service providers with superior network visibility through a complete service assurance solution for Carrier Ethernet, IP, SDN/NFV and Cloud networks. The solution comes with the
CreaNODE
Probes and NFV-based
vProbe
,
EchoVault
Performance and SLA Management system and
EchoVault Portal
. This comprehensive solution for Performance and SLA Management provides predictive analytics and improves network visibility to strengthen customer loyalty. Creanord enables Service Assurance with the power and flexibility required in ever-changing, virtualized networks.
About Adva
ADVA Optical Networking is a company founded on innovation and driven to help our customers succeed. For over two decades, our technology has empowered networks across the globe. We're continually developing breakthrough hardware and software that leads the networking industry and creates new business opportunities. It's these open connectivity solutions that enable our customers to deliver the cloud and mobile services that are vital to today's society and for imagining new tomorrows. Together, we're building a truly connected and sustainable future. For more information on how we can help you, please visit us at: http://www.advaoptical.com.